11.01.2023 - Economy, Startups
Investment in knowledge-intensive sectors is growing
Last year, 40 investment projects were launched with the support of the Investment and Development Agency of Latvia (LIAA), with a total planned investment volume of EUR 473 million. These investment projects are expected to create 2308 new jobs.
Ilze Indriksone, Minister of Economics: "By developing the "Large Investment Fund" programme and introducing the "Green Corridor" approach to investing directly in knowledge-intensive sectors, we have made a breakthrough in the implementation of high value-added projects and strengthened the interest of foreign investors to cooperate with our businesses. It is projects such as these that make an economic contribution to the growth of our economy by ensuring investment in new product development, the introduction of advanced technological processes, productivity improvements, as well as the participation of companies in global supply chains and the expansion of the geography of the export market. A positive trend is that production facilities are increasingly located outside the capital, which also means new and well-paid jobs for people in the regions."
Among the success stories of the past year, FORTA PRO, a modular construction company, has signed an investment agreement with SAMSUNG C&T, expressing its ambition to become the world's leading modular construction company. FORTA PRO has already outlined ambitious development plans both in Latvia and abroad, expanding production and construction capacity. The entry of such a major investor as SAMSUNG C&T into Latvia is a reflection of the attractiveness of the investment environment as well as the professional competence of Latvian specialists. FORTA PRO currently has production facilities in Jelgava and Ventspils, employing 300 people, and plans to increase its workforce to 700 employees and launch several new projects this year. Anodox Energy Systems has also announced the launch of its operations in Latvia. The Swedish company will develop battery production for electric vehicles in Latvia. Meanwhile, Enamine, a Ukrainian company and the world's leading supplier of chemical compounds and related services to the pharmaceutical industry, has started work on its expansion in Latvia.
Although 2022 will have been the worst year in a decade according to stock market index ratings, the overall attractiveness of investment has varied between countries. The Baltic states, including Latvia, have shown good growth in attracting investment in recent years. This is largely due to the changes in global supply chains caused by the pandemic, as well as the continued availability of highly skilled professionals in the Baltic states and the reasonable costs of running a business. In total, 40 investment projects covering 18 countries have been implemented in 2022 with the support of the LIAA. Germany and Norway are the most represented with six projects each. The total investment volume listed is EUR 473 million; however, the investment volume is not disclosed for some projects, so the actual investment volume is likely to be higher.
"In the LIAA investment projects, around two thirds of the inward investment is in knowledge-intensive sectors. This marks a turning point in our ability to be of interest to high value-added industries. Working on these projects requires more insight and different working methods, but the results show that we are on the right track and the so-called economic restructuring is happening," said the Director General of LIAA, Kaspars Rožkalns.
Many Nordic companies see the Baltic states as their home market. Latvian companies operate on a similar model. We try to adopt good practices and offer our own solutions. Latvia's business environment is very flexible, and the size of the country allows us to quickly see what works and what does not. In a way, we are a testing ground, which is especially important for technology companies to check the viability of their products or services. "Latvia's national image strategy is based on a mission-driven approach; we want to focus knowledge and resources to achieve more ambitious goals. We want to double investment in research and development in the period to 2027, which is a prerequisite for faster innovation implementation and higher productivity increase of companies. These are big goals, which is why smart investment is a key focus," emphasises K. Rožkalns.
Latvian start-ups have also shown relatively good results in attracting investments in 2022, having attracted EUR 61 million in investments in 2022. The most notable deals were signed by Juro, Giraffe360, Aerones, Colizeum and SaltoX.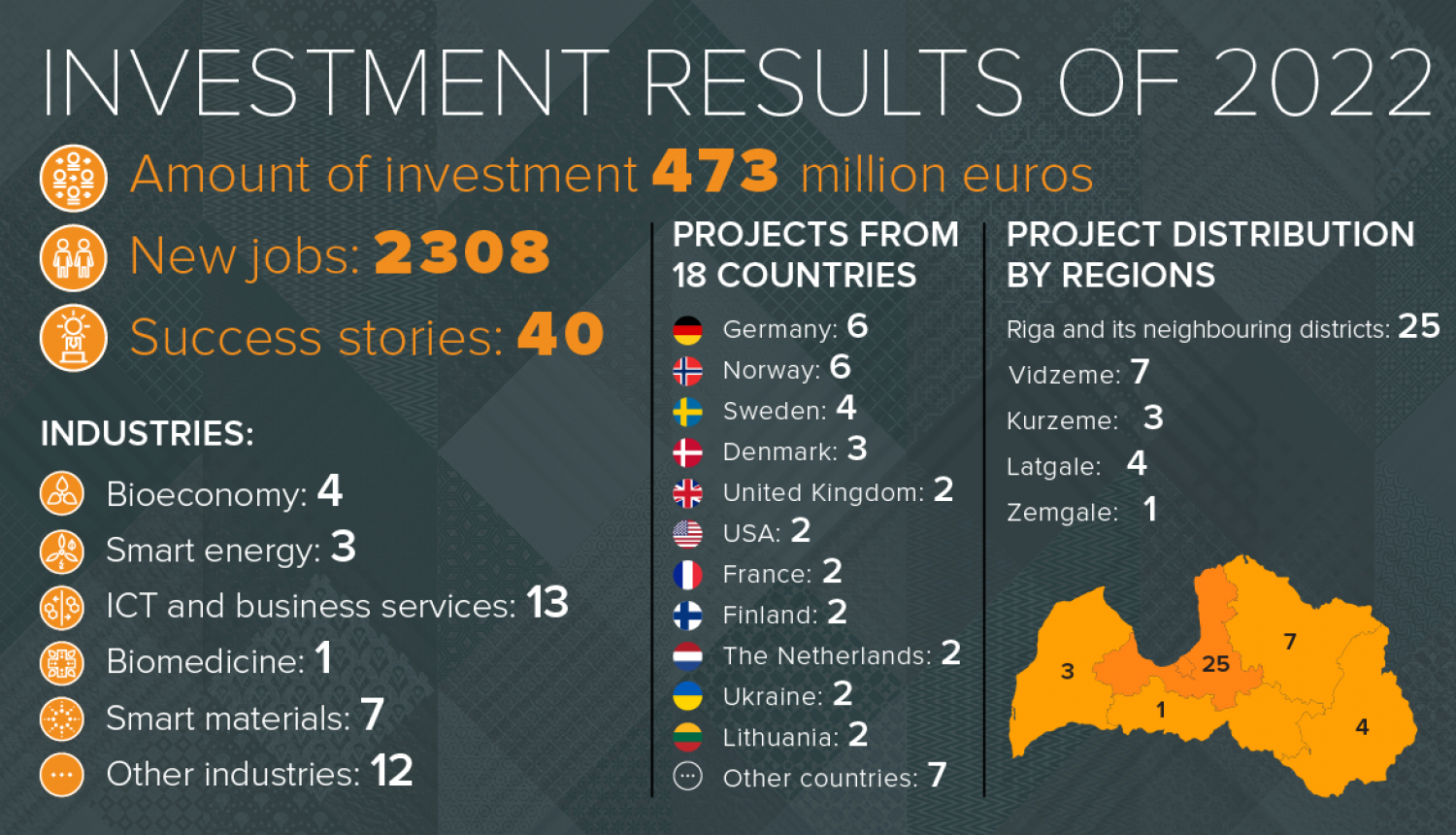 Source: LIAA (liaa.gov.lv). Photo: Shutterstock.