20.07.2023 - Economy, LIAA
371.5 million euros were attracted in the first six months of 2023
This year, 20 investment projects have already been approved with the direct participation of the Investment and Development Agency of Latvia (LIAA). The projects will create 1160 workplaces and reach 371.5 million euros in investment.
"A growth-orientated business environment and a well-thought-out investment attraction strategy are essential for Latvia's economic transformation, so that entrepreneurs find Latvia attractive as a country to invest in high added value manufacturing, innovation and human capital," stated Ilze Indriksone, Minister of Economics.
The ministry, together with LIAA, which plays an important role in attracting foreign investment, is working on initiatives to attract strategic investors, thinking both about improving the regulatory framework and removing bureaucratic obstacles, as well as about boosting the country's image and competitiveness.
"This will boost economic activity, investment volumes and the number of new well-paid workplaces in the regions," Indriksone added.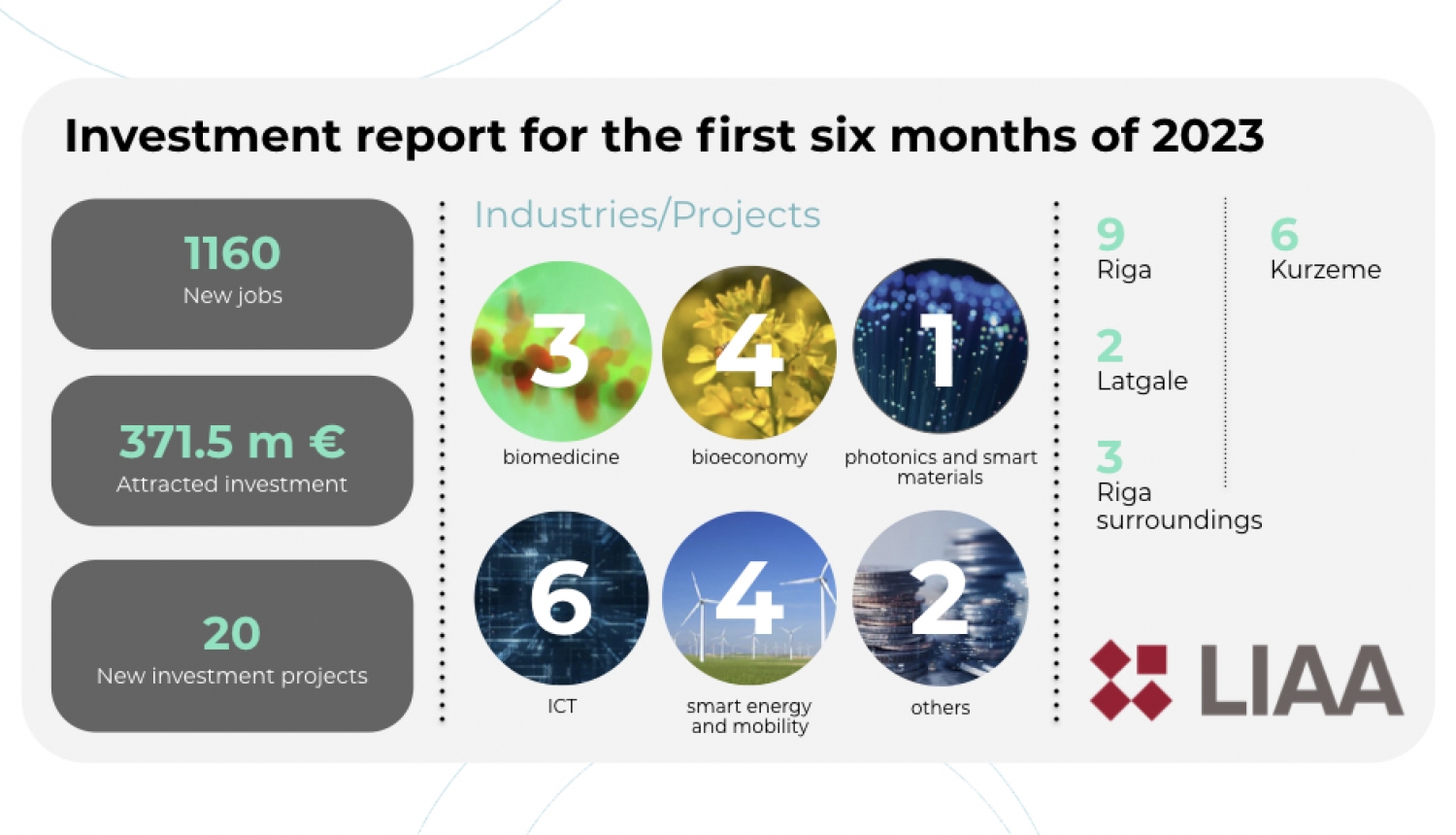 Infographic shows investments made in Latvia in 2023
Projects in several sectors
The investment projects launched represent sectors such as biotech, ICT, photonics and smart materials, smart energetics and mobility, and biomedicine.
12 of the investment projects launched this year will be implemented in Riga and the Riga suburbs, six in the region of Kurzeme and two in the region of Latgale.
"The good news is that despite the threat of recession, investor interest has not decreased, and projects are being implemented. The so-called Green Corridor regulation, which aims to remove administrative barriers and speed up the implementation of investment projects, will be key to strengthening our position in attracting investment. The large investment programme, which can attract up to 10 million euros in capital discounts for new investment projects, also makes an important contribution," said Kaspars Rožkalns, Director of LIAA.
Examples of investment projects launched this year include the Italian family company Marcegaglia, which acquired the assets of the sanctioned Russian company Severstal Distribution in Latvia and plans to create 300 workplaces.
Roche Services & Solutions (Switzerland), one of the world's largest biotechnology companies, has opened a business services centre in Riga, where it plans to create 200 new workplaces.
Meanwhile, in Liepaja, I-Cotton (Kazakhstan) has started expanding its production facility by installing two new production lines. The investment in this project will amount to 2 million euros. The company is the largest producer of cotton products, wet wipes and personal care products in the EU and CIS countries.
Several solar and wind energy projects are also being developed which will strengthen Latvia's energy independence.
Obstacles stopping further investment
Investors have also pointed out the most important obstacles to increased investment in Latvia's economy – the still unclear situation with energy prices, attracting qualified specialists from abroad, wage taxes and banks' loan policies.
In 2022, with the support of LIAA, 40 investment projects were carried out, creating 2398 workplaces. The attracted investment will amount to at least 473 million euros.
Source: Press release (www.liaa.gov.lv)
Photo: Shutterstock